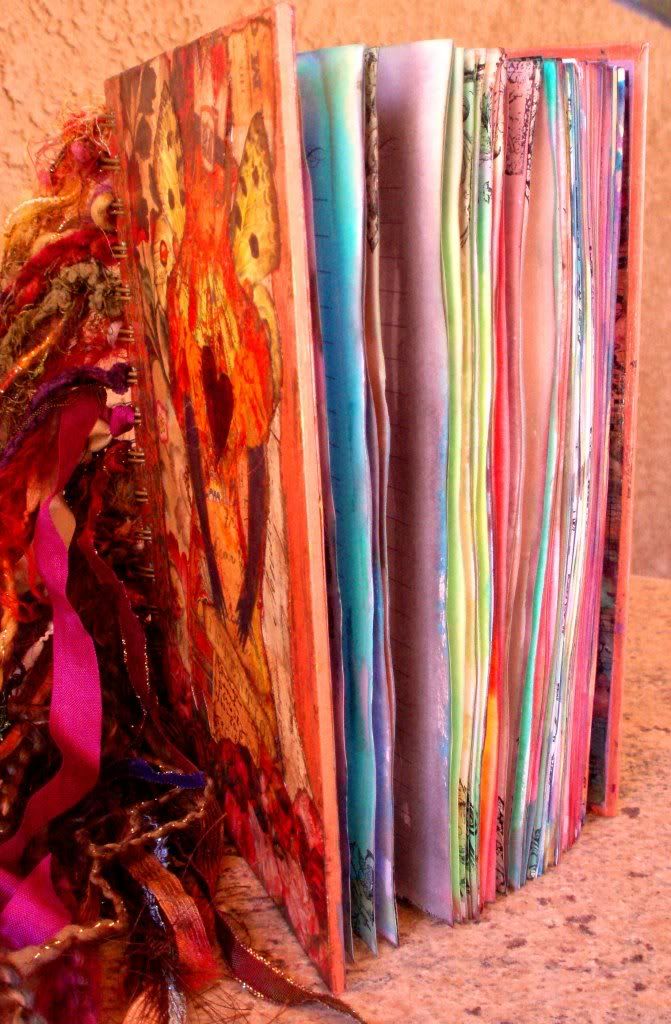 art journals! the one above can be found at
izabella's tattered letters
. i've designed a few journal covers and finished one complete
altered journal
. i guess what i love most about these projects
are the layers. there is no limit on how much or how little you can add to these things, and they still look amazing.
i think this is my most "professional" looking journal cover. the girl is a collaged piece onto a painted diamond background. then i used a gold crayon for some swirls, and that's it!
this piece was another of my first ones, and for some reason i thought that it was an excellent idea to take a picture before the glue dried, so ignore the glue spots. it is a painted background, no stamps. the i collaged on some clock parts and circuit board along with a gold part of a clock face with the word "art" inside connected to a gold chain. the i added an old belt that no longer fits to bind it all together.
this is the cover to my completed journal. it is collaged wallpaper with an octopus drawn on, ha. it also has some painted speckled on there. it is bound with a super cute sparkly pink belt that i loved. the spine is decorated with yarn, ribbon and beads and feathers, that's my favorite part.
this one was my first altered journal. it is green with collaged chinese newspaper and some drawings on the side. then i embellished it with some buttons, mirrors, letters, wire and beads.
i love how puffy these books get when they are filled with writings, souvenirs, and all sorts of collage elements. i also love the decorated spines.
altered journals are one of my favorite projects and is definitely a project i want to incorporate into my classroom. it's a project that can easily be very beautiful and personal. for some of the most amazing journals i have seen, because of subject matter, craftsmanship and originality, you should visit Luthien's
Pimp & Paint.